2015-05-22 Anja 经济学人赏析
作为社交网络领域的霸主,Facebook拥有14亿用户,坐拥全球互联网广告9%的份额。它旗下还有图片分享社交应用Instagram(3亿用户)及即时通讯应用WhatsApp(7亿用户)。最近,它的影响力正在逐渐渗透到新闻行业中。

Friends with benefits?译者:@Anja 校对:@w @gsyFacebook and several news firms have entered an uneasy partnershipFacebook与新闻公司的微妙关系
May 16th 2015 | SAN FRANCISCO | From the print edition
"INSTANT ARTICLES" is a new service announced by Facebook on May 12th, in partnership with nine news firms, including the New York Times, the Guardian and National Geographic. Facebook users will be able to read stories from these publishers without leaving the social network, since it will host the articles rather than just providing weblinks that send readers offto the news firms' websites. In return, newspapers will be able to sell advertising that appears next to their stories and keep all the revenue, or let Facebook sell the ad space, and give it a 30%cut.
Facebook于5月12日发布了一项名为"新闻快读"新服务。该服务与9家新闻门户合作推出,包括《纽约时报》(New York Times), 《卫报》(the Guardian)和《国家地理》(National Geographic)。Facebook用户将无需离开该社交平台就能阅读到这9家媒体的新闻资讯,因为Facebook将会直接发布资讯文章,而不再仅仅给出文章链接把用户引到新闻门户网站。作为回报,新闻媒体可以在他们的文章周边放置广告,且可将该广告费用全部收入囊中,另一种方案是由Facebook出售广告空位,新闻公司得到30%的分成。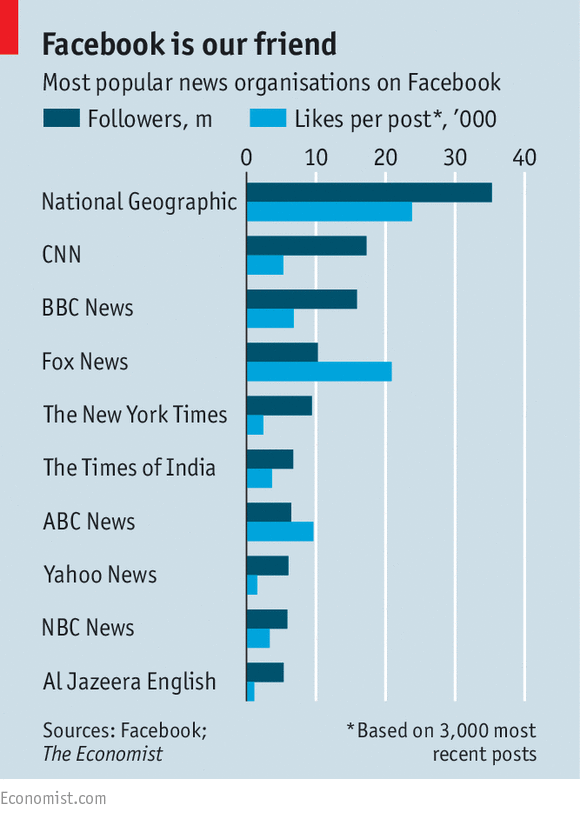 The nascent partnership highlights Facebook's growing clout in the news business. Newspapers have become dependent on it to send readers to them, and tweaks to Facebook's algorithm can dramatically change websites'traffic. The New York Times gets around 15% of its traffic from Facebook; some news sites get over half. News firms have already cultivated legions of Facebook fans (see chart). Through the partnership publishers can reach new audiences, while Facebook will keep users from straying, and serve up more ads.
这种新生伙伴关系彰显了Facebook对新闻行业日益见长的控制力。新闻媒体已经开始指望Facebook给他们带来读者,对Facebook的算法稍作调整就能大大影响网站流量。 《纽约时报》15%的流量来自Facebook;还有更甚达到50%以上的。新闻门户已经培养了一大批Facebook粉丝(见上表)。通过合作,新闻媒体可拉拢新一批读者,而对Facebook来说既能防止用户流失又能卖出更多广告。
The friendship is not without its complications. With 1.4 billion users, Facebook has grown into a Goliath, controlling around 9% of all online advertising globally. Newspapers risk giving Facebook even more power by conditioning young Facebook users to think that they can get everything they need in one stop, and undermining their own websites as destinations. In the past, firms that have hitched their business to Facebook have been bruised. For example, Zynga, an online gaming company, excelled until Facebook changed how often its users were shown alerts from their friends boasting of their game scores.
关系越亲密,利益冲突越明显。坐拥14亿用户和全球互联网广告9%的份额,Facebook已俨然长成一巨人。新闻门户冒着把自己作为目的网站的地位拱手让人的风险,让Facebook年轻用户养成这样的思维:他们可以不出Facebook得到一站式服务。过去,试图搭Facebook便车的公司一一受挫,如 Zynga,一线上游戏公司,直至Facebook变更了用户收到好友晒分的频率才得以脱颖而出。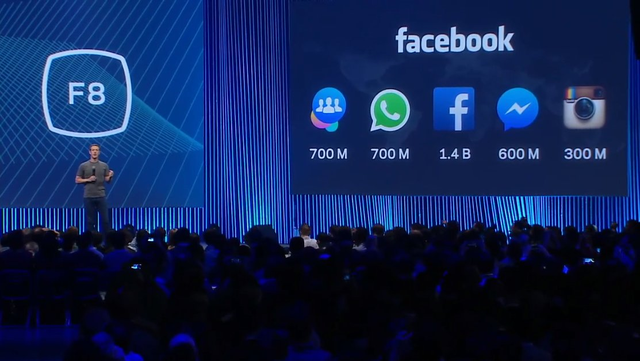 Recently, news firms have tried to take a more analytical approachto their online businesses. Some are hiring teams of data-crunchers, and using traffic-analysis firms such as ChartBeat to help them see in real time where readers come from. However, the risk is that they pay too much attention to the number of visitors driven through social media and not enough to the time people spend engaging on their websites, says Gordon Crovitz, a media entrepreneur.
近来,新闻门户尝试通过更多的数据分析来助力他们的网上业务。有些雇佣了数据分析团队和流量分析公司(如ChartBeat)来实时跟踪读者来源。然而,媒体企业家Gordon Crovitz称,风险在于新闻门户过于关注社交媒体的读者引流数量,而忽视了人们在他们的网站上的停留时长。
Other firms will follow in Facebook's wake. "There is suddenly a lot of competition among the social networks to host premium content," says Edward Roussel, chief innovation officer at Dow Jones, a media company. Earlier this year Snapchat, a messaging service, started offering articles from a select group of news firms to its users. Paul Zwillenberg of the Boston Consulting Group predicts that some social networks, including Facebook, will ultimately pay publishers to host content.
其他公司将紧随Facebook的步伐。Dow Jones媒体公司的首席创意官Edward Roussel表示:"一下子社交媒体冒出了好多竞争对手,都想发布付费内容。"通讯应用Snapchat在今年早些时候就已经开始向它的用户提供来自新闻门户的精选文章。波士顿咨询集团(BCG)的Paul Zwillenberg预测道,某些社交平台(包括Facebook)将不得不付钱给新闻门户来换取文章的发布。
This will make news firms less vulnerable to the whims of any one social network's algorithms. However, the gravest risk to publishers is that social networks continue to transform themselves into a form of modern-day newspaper, curating content, engaging users and selling their attention to advertisers.
当然,在社交媒体一家一个花样、一天一个花样的算法面前,新闻公司能凭此多一些底气。然而,对新闻公司最大的威胁在于,社交媒体正马不停歇地将自己变为现代新闻的模样:聚合内容锁定用户,再将用户的注意力转卖给广告商。
From the print edition: Business笔记
curate
1). Macmillan Dictionary:v. to select items from among a large number of possibilities for other people to consume and enjoy; applied to many areas including music, design, fashion, and especially digital media
2.) Wikipedia: http://en.wikipedia.org/wiki/Content_curation
3). "A curated site that mixes created, contributed and gathered content sends a powerful message of inclusion to customers," says Steve Rosenbaum, author of Curation Nation and CEO of Magnify.net. "Because curation is based on brand-safe rules and practices, there's no risk of being exposed to content that is going to damage the brand."
4).Google: "content curation 内容",发现主要有这么几个译本:[内容策展][内容集展][内容积酿],均与传统意义上博物馆、画廊等的展览策划比较对应。
——实际上,没办法给文章语境中的curate/curation这种新媒体处理内容的模式找到完全对应的中文翻译,研究决定,姑且采用[聚合]。
the whim of algorithms
google了表达类似的文段,帮助理解:
1). Slavin asserts, examines algorithms as unreadable "co-evolutionary forces" which one must understand alongside nature and man. The danger that faces us consists in blindly following the automated whims of algorithms no matter what they decide or calculate. Decision-making is limited to the speed of automation.
2). Smaller businesses may succeed or fail depending on the whims of Google's search algorithm. In 2006, California-based KinderStart.com sued Google in federal court, claiming that it sustained significant financial harm when Google changed its algorithm and subsequently ranked the site low in its search results. Ultimately, KinderStart.com lost its court battle, as have other companies that have filed similar suits against Google.
3). Facebook is mysterious. Your personal newsfeed is subject to the whims of whatever algorithms are in place to decide what you want to see. Make sure your Newsfeed is set to "Most Recent" and also try your pages feed...
回到文章,the whims of any one social network's algorithms 既有[一家社交媒体的算法一个样],也有[就算是同一家社交媒体的算法,也一天一个样]的意思。总的来说,社交媒体的算法人为操作空间很大,让新闻门户很被动,但是借着当下各个社交平台竞相发布付费新闻资讯的趋势,新闻门户又扳回一筹,正在向卖方市场发展。但实际情况更加复杂,两者的关系相反相成也相辅相成,微妙十分,所以才有文末的意味深长。